I LOVE BOOKS. But that shouldn't come as news to you. You are here on my blog, so you would know. I am just not a bibliophile; I love everything related to books. I love the book smell, the library, bookish characters, of course talking to the authors and everything and anything that falls between these obsessions.
While I love talking about books and hearing / reading your thoughts about any book, I can not somehow join the bandwagon that everyone (am looking at you Buzzfeed) calls as being a book-nerd. (Does anyone get as annoyed as I do when people overuse 'nerd'?).
My unpopular bookish opinions
Why, you ask? I do not conform to the popular (read as mainstream) norms and opinions of the book world according to the Internet. Here are my top 10 unpopular bookish opinions.
10) I don't give books 'star ratings'.
Until a short while ago, I rated books too, but I have liberated myself from the obligation to summarize all my feelings about a book to a star rating. I don't want to be struggling to decide if I should give the book a 3 star or 3.5 star. Or worse, to give two very different books the same rating when they clearly aren't. Read more about my issue with ratings here.
9) I am rarely a fangirl
It might come as a shocker to some people and even confuse a few. I might love the plot and writing and still hate the characters or feel meh about them. I rarely have a fangirling moment, but when I do, I can not stop gushing about them.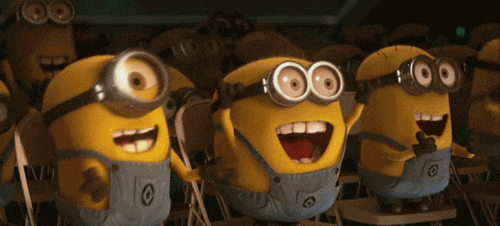 8) I still have not lost my love for people.
Sure I might be misanthropic sometimes. And even wiggle out of meeting friends because I don't feel like it. Oh, I might hate talking to you right now because I have a book in my hand and I would rather finish that than gossiping with you.
Well that is me! But none of that is due to my love for books. Not all book nerds have to be introverts or speak like a geek and be adorkable (I am looking at you, John Green). If you do, it is great and if you don't it is great too!
7) Some movies are better than books
I find no qualms in saying that there are some movies that have been better than their books. I am not going to deny that. Though I mostly prefer books to movies or TV series, there have been times that movies were as good as the books (like Gone Girl, The shining) as well as some that did better than the books (LOTR, PS I Love you, The room).
6) I prefer stand-alones to series
I don't read book series. There, I said it. While every other book lover I know reads and obsesses about series after series, but I don't have the patience to wait for the next book to be released. Or by the time it does get published, I would have forgotten all about it.
5) Book-nerds are not as judgemental as they seem
The Internet people all over the world seem to love bashing (read as, critique reviewing) titles like Twilight or Fifty shades, etc. Even I am guilty of doing that. I am yet to meet any book lover in real life to judge someone who reads something they don't approve.
We might do that over the Internet; it is yet one other thing that the big bad mean world of the web makes us do. In real life, I am sure any book lover would feel a sense of bonding to see a book in your hand, whatever kind of reader you might be.
4) I don't organize my bookshelves by color
I love spending hours gawking at #bookstagram. Come on, who doesn't like looking at beautiful things? But I know it is not for me. I still arrange my books based on genre and then the size. And I still pick function over design.
This is probably one of the most unpopular bookish opinions.
3) I am not cover obsessed
I don't mind your judging the book by its cover; not at all. But I am surprised how far my fellow book people go with their cover obsession. It might have all started with the cover reveal parties; at least these parties, i.e., series of promotional posts have made book covers a huge deal.
I know friends who want the covers of all the books they own in a series to match. And if they don't, they even buy multiple copies only for the covers. Sure they are pretty, but aren't they a wee bit overboard? Maybe it is just me.
2) I highlight and dog-ear my books, sometimes… Rarely.. Okay never! But I don't mind them
I treasure my books. I seldom lend them. And when I do, I may keep politely reminding (nudge or nag, rather) them until they give it back. Yet, I don't mind an occasional highlight or dog-ear in my books. I don't get a panic attack when some one does that.
Hey, I love loved books that I find from the thrift stores.
1) I don't mind the spoilers
While the entire world is going crazy over the leaked spoilers, I for one don't mind them at all.
If anything they make me more curious about how things are gonna turn into what I already know (thanks to the spoiler). See, I agree I would hate to know whodunnit too early, but dude, we know how most romance novels end.
So go on, tell me all about the book you loved, I still would read it without despising you. Spoilers are not a huge deal to me.
#Bonus: My non bookish unpopular opinion
I don't understand pet parties.
I don't, but I am almost sure your pets don't enjoy wearing those party hats. The number of pet party supplies I see around my place is ridiculous. If you want to make them happy, let them be.
Similar posts that you may like
Pin me!
Let's chat
What are your unpopular bookish opinions? Do you conform to the mainstream image of a book-nerd? Let me know, we can gossip quite a bit about them.